Repair And Protect Wires Easier And More Effectively With This Solder Wire Connector!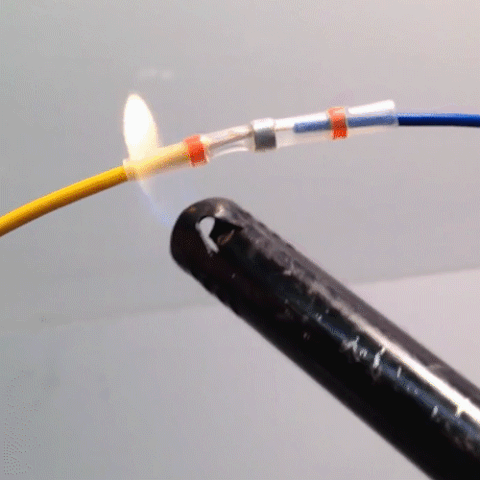 This connector works better, is easier to use, and last longer than electric tape. This waterproof connector set includes 4 sizes of wire connectors to fit most types of wiring. With its high-durability, it can protect your wires from weather-damages, force, and even pests.
Product Features:
✅ Wide Application - Can be ideal use in marine and automobile applications
✅ Easy to Use - No need to crimp, just heat then complete. An easy one step connection of wires, soldered, insulated and sealed
✅ Fantastic Design - Dual-walled design ensures waterproof seal and prevents wire corrosion. Outside polyolefin tubing provides insulation and improves pullout strength; Hot melt adhesive & solder inside ensures wires tightly connected and avoids wires slipping out of the terminal.
✅ Convenient - Specific color for specific size, easy to identify and pick up for use.Transparent sleeve provides precise inspection when strip and insert wires inside
How to Use:



Prepare wires
Select correct heat shrinkable butt connector
Strain the wires and fix it into the prefluxed solder sleeve
Evenly heat the connector by heat gun until absolutely melted and fully recovered
Remove the connector from heat gun and wait it cooled
Details:
Package Includes:
50/100/150/200/250/300/500 x Waterproof Solder Wire Connectors
This unit is secured and allows you to use electrical tape to prevent the splice connections from being pulled apart. Moreover, you can also trim off the zip's excess and tie the ends with a pair of scissors. Besides, it is an inexpensive and safe way to connect an existing wire to a new wire.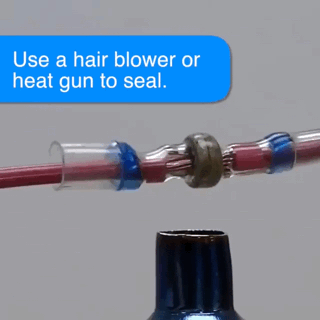 ✅ FAST AND SIMPLE PROCESS – One-Step solder and seal process for all your connections.
✅ WATERPROOF – The insulation tubing has a unique dual-walled design; polyolefin tubing on the outside and hot melt adhesive inside. When heat is applied, polyolefin tubing reduces in size and adhesive flows inside the insulation. Dual walled tubing ensures a waterproof seal and prevents wire corrosion.
✅ EASY IDENTIFICATION – Color-coded tubing makes it easy to identify the right size connector for every application. Measure your wire, and easily choose the right connector by looking at the wire size chart on the box.
✅ COMPLIANT WITH ALL RELEVANT STANDARDS – Our heat shrink connectors are compliant with ROHS, ISO 9001:2015, SGS and CE standards.
We are now taking customized orders for 250 piece kits.
Our Cosolder Wire Connector Kit offers an innovative wiring solution that allows you to create soldered waterproof connections in seconds. No soldering kit is needed. All connectors are IP67 waterproof.
This kit will supply you with high-quality solder and seal terminals that will last for numerous wiring projects. Whether you are working on your boat, vehicle, home, or scientific project, our heat shrink solder and seal connectors will ensure solid soldering, increased current flow, and weatherproof connections every time!
Note: Due to restrictions from our financial partners and local carriers, our store does NOT ship to Alaska and Hawaii. For orders assigned to be delivered to these places, you would be automatically refunded on your original payment method.
Click 'BUY IT NOW!' to get yours.

⚡️Stock sells fast - get yours today!