Pet Grooming Brush Will Pamper Your Furry Friend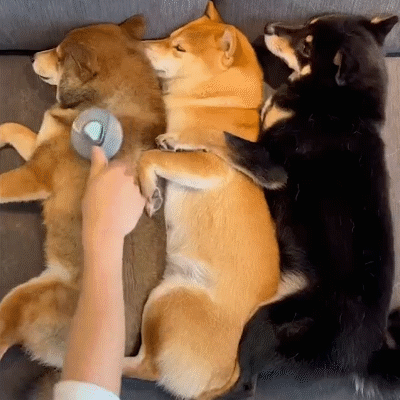 ❤️GREAT LOVE FOR PET🐱🐶
Pet Grooming brush is suitable for pets daily clean. It gently removes stubborn fur without scratching your pet's skin, and grooming your pets coat soft and shiny. Pet Massage Brush is good for preventing skin disease increasing blood circulation. Your pets will enjoy the grooming experience worthwhile.
❤️THE PERFECT BRUSH TO GET ALL NASTY MATS OUT OF YOUR PET'S FUR❤️
Pet Grooming Brush gently removes Loose Hair, and eliminates Tangles, Knots, Dander and trapped Dirt. No more fur on the floor! WORKS GREAT ON DOGS AND CATS WITH ALL SIZES AND HAIR TYPES!
❤️GET RID OF MATS WITHOUT HURTING YOUR PET❤️
The bristles are fine bent wires designed to penetrate deep into the coat and are able to groom the undercoat well without scratching your pet's skin! Great brush for shedding dogs and pets with long and short hair!
❤️EASY TO CLEAN❤️
When you're done brushing your pet, Simply click the button and the bristles retract back into the brush, making it SUPER SIMPLE to remove all the hair from the brush, so it's ready for the next time use.

Customer Questions & Answers
Question 1:Are there rubber tips on the end the bristles to protect pet's skin?
Answer:Yes.
Question 2: Does this cut the coat, or just brush the undercoat?
Answer:It just brushes undercoat.
Question 3: How do I clean out the brush?
Answer:You can remove the hair directly. If there is fine hair, remove it with tweezers. Do not wash the brush with water.
Specification:
Dimensions:19.3x7.7cm (L*W)/8 '' x 3.5''

Brush pin length:0.4''

Weight: 120g

Material: TPR+ABS+stainless steel needle
Package includes
Pet Grooming Brush*1/with or without a nail clipper