Charge 4 devices with 1 Port!
No more waiting & fighting for charge ports!
4 Ports in One with Fast charging feature! Easy & Practical! Perfect for everyday road trips. This charges every passenger's devices in the car
simultaneously without a long-wait and overheating!
Very efficient way and convenient for everyone!
Smart Chip that automatically stop when your battery is full. Designed with fireproof materials, safe and reliable.
FEATURES:
• 4 Ports in One
With 4 ports cable charging, you can easily charge all your devices at the same time easily!
No more waiting & fighting for charge ports!
• Fast Charging
3.0 fast-charge technology and can provide rapid charging for 4 devices simultaneously without overheating!
• LED Light Display
Auto LED Display when the device is charging! Easily glance & manage all devices.
• Durable Smart Chip
Made with upgraded chip multi-protection structure, sturdy casing that protects against overcharging, overheating, and short circuit. When the battery is fully charged, charging will automatically pause.
• Easy to Use
Simply plug to your car charging port and enjoy your charging while driving. No worries cause our charger will automatically stop when the battery is full.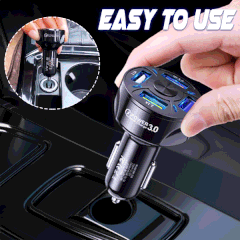 • Universally Applicable
Applicable for most cars
,
SUVs, RVs, Buses, etc. that have a charging port outlet.
SPECIFICATION:
•
Connector
Type
: USB
•
Color
: Black, White
PACKAGE INCLUDES:
•
4-IN-1 Fast Charging Port for Car x 1pc