Cook to your heart's content without worrying about oil splatter using this anti-splash spatula hand guard!
The spatula cover is designed with a round streamline which effectively shields your hands from any hot splashes! It also helps you to avoid accidentally touching the heated surface of the pan. Allowing you to cook, mix, scrape, flip or serve without burning your hand! Ideal for beginners, chefs, and those who love cooking. Simply slide the hand guard onto the spatula handle and you're done!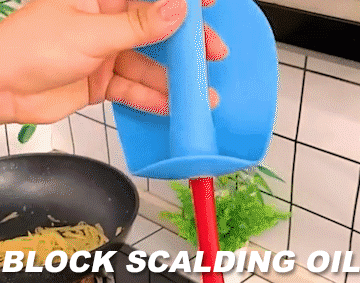 This anti-splash cover has a comfortable sleeve that offers a powerful gripping and easy maneuverability. It won't cause your cooking any difficulties and it won't also slide or slip off from the turner. Additionally, the hand guard is suitable for most standard spatulas. It can be cleaned easily and does not retain any odor. Made of durable and non-toxic material which is safe for everyday use.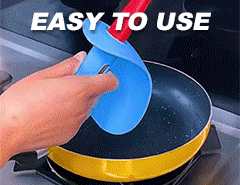 Give your hand a protective shield for your every cooking battle using this anti-splash spatula hand guard!
FEATURES:
Anti-Splash Spatula Cover
This spatula cover effectively prevents every hot grease and oil splatter from coming into contact in your hand. Moreover, it also shields your hand from accidentally touching the heated surface of the pan to avoid burns. Providing you a more enjoyable and secured cooking experience.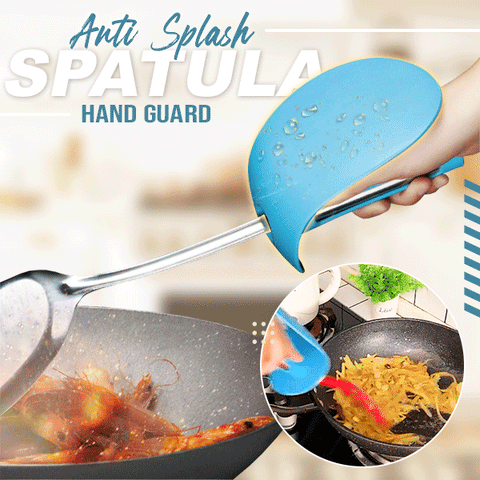 Ergonomic Design
The hand guard features a round streamlined design with a comfortable sleeve that you can smoothly slide onto a spatula. It offers a powerful gripping for easy maneuverability while cooking. Allowing you to use it for an extended time without straining your hand. Additionally, this anti-splash cover fits firmly onto the turner handle so it won't slide constantly or slip off when used!
Wide Compatibility
It has a wide range of compatibility that is suitable to most standard spatulas. Simply slide the mouth of the hand guard on the tail of the spatula and you're all set! You can now mix, scrape, flip and serve without burning your hands from the hot splashes. Perfect for beginners, professional cooks, mothers, fathers and those who love cooking!
Easy to Clean
The spatula cover is non-stick and it does not retain any odor so it can be cleaned easily with soap and water. It also has a convenient opening on the sleeve which allows you to hang any spatula with a hook even when the cover is on. Making it easier to store after use.
Premium Material
Made of high-quality non-slip TPR material with great durability and heat-resistance. It is non-toxic and completely safe for everyday use. The anti-splash hand guard does not break easily even after many splashes.