Don't Break the Bank on Outdoor Lighting, Use These.
Want a beautiful home you can really be proud of, but don't want to spend hundreds of dollars on lighting?
‍
Most outdoor lights can cost a fortune. Plus you have to pay a professional a few hundred dollars to install them.
‍
You might want to install them yourself, but you could end up enduring hours of back breaking labor under the burning sun just to do so.
‍
What if you could upgrade your yard in a few minutes, for a fraction of the cost? These breakthrough 'DIY' Colorglow lights will transform your home for an unbelievable price…
What is Colorglow?
Colorglow Solar Lights are the quickest, most affordable, and easiest way to bring out the best features of your home without the pricey installation.
‍
With 6 brilliant colors to choose from, find the perfect hue to complement every space, turning each of them into an impressive sight in your neighborhood.
‍
Don't be caught off guard if neighbors suddenly come to you asking how you installed your lights so nicely and quickly!
How Do They Work?
Colorglow takes a few minutes to install. To start, find the areas you need to light, seeing to it that they get maximum sun. Then, use the mounting accessories to fasten each Colorglow light.
‍
Leave them out charging during the day. The efficient solar panels will harvest all the energy they need.
‍
Finally, set the color mode you like: Choose from 6 unique colors and shifting modes to design the custom colorscape that suits your mood.
‍
With its built-in Dusk-to-Dawn Technology, each Cölorglow light can automatically turn on at night, surrounding your home in vibrant, magazine-worthy illumination. Forget going out and fumbling with switches to turn them on or off.


Colorglow Only Takes Minutes to Set Up
Lighting your spaces doesn't have to cost a fortune. With Cölorglow, you can achieve the best look of your home without dealing with complicated wiring, annoying maintenance, or costly professional installation. Enjoy having no added power bills, too.
After I Installed Colorglow:
5 Reasons Why You Need Colorglow
Creates a beautiful colorscape around your home 🏡
Increases the curb appeal of your property 🤩
Neighbors will be jealous thinking you splurged! 😉
Solar-powered, zero added power bills 💸
Super easy setup, zero ugly wires, zero professional fees 👍🏼
PRO TIP: Highlight unique textures, create dramatic effects, and make the home look larger with Cölorglow's custom lights. For outdoor parties, create the perfect theme using the lighting modes!
What's A Nice Spot For Colorglow?
Anywhere is a good idea! Get started with these areas: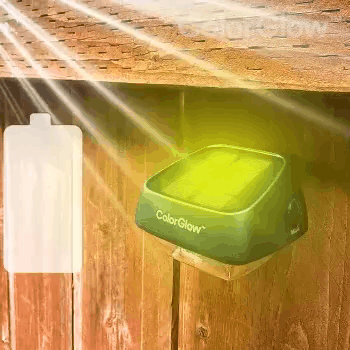 SHIPPING & DELIVERY
Due to high demand please allow 5-15 days for your order to be delivered to your address (This applies to all United States and United Kingdom orders).
All other countries worldwide typically take 5-20 days. We apologize for any inconvenience this may cause you; however, we are 100% certain that you will enjoy your shopping upon delivery!
Thank you for being one of our valued customers.