No more squeezing yourself in tight corners!!
Our Easy Change Sink Wrench is a universal under sink plumbing tool

that works on

most faucets

, which helps you easily

tighten or loosen up nuts or screws

that are tucked away, and makes

installing faucets and sinks like a breeze!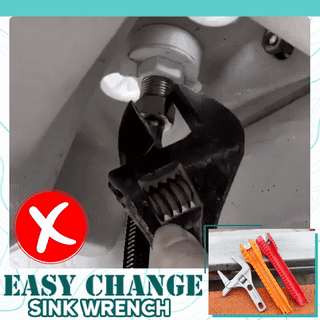 The extra-long design

makes it easier to turn

hard-to-reach mounting nuts on faucets, sprayers and ball cocks

. Just

snap

the position and

rotate

quickly, then

replace the nut installed from the faucet.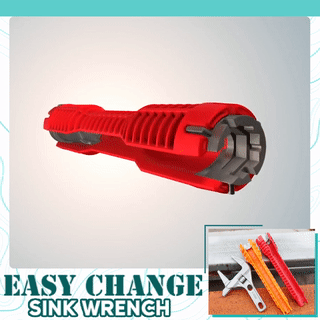 This lightweight

tool with

durable aluminum inserts

handles many aspects of

faucet installation

including

shut off valves, supply lines and basket strainers

. The

short, reinforced body

not only clears spaces, but is

easy to store. It is a great addition to any toolbox.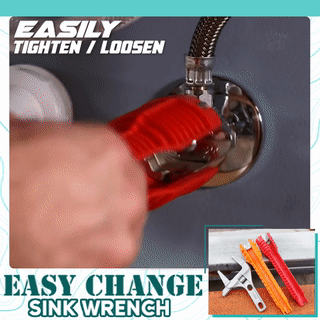 FEATURES:

Multi-Functional:


It works with most common 2, 3, 4, and 6 tab basin nuts.

Efficient & Labor-Saving:


Sufficient to deal with the various water pipe accidents that need to be faced in daily life, easy to use and rotate in narrow space.

Heavy-Duty & Durable:
Made of lightweight, high-strength plastic and durable zinc alloy, difficult to be out of shape.


Non-Slip Handle:


The anti-slip texture can easily relieve your hand strength when you use it.

Easy To Use:


It doesn't need professional skill, is easy to operate for anyone.
Super Versatile:
Suitable for the toilet bowl, sink, bathroom, kitchen plumbing and more.
SPECIFICATIONS:
Material: Plastic + Aluminum
Single Head

Weight: 172g

Dimensions: 52mm X 260mm X 29mm

Suitable for: 4 and 6 tab basin nuts, supply line nuts, 1/2" and 3/4" hex nuts

Inclusion: aluminum wrench head insert x1

Dual Head

Weight: 312g

Dimensions: 52mm X 300mm X 19mm

Suitable for: 2, 3, 4, and 6 tab basin nuts, supply line nuts, 7/8" and 1" hex nuts
Inclusion:

aluminum insert for turning angle stop handles x1, aluminum insert for holding strainer baskets in place x1
PACKAGE INCLUDES:

1pc x Easy Change Sink Wrench

OUR SERVICES
We are looking forward to establishing a long-standing business relationship with our customers. 'To satisfy customers' is the motto of us which clearly indicates our fully customer-oriented attitudes towards the business.