PURFECT TOY TO KEEP YOUR CAT HEALTHY AND HAPPY
Your cat's health isn't just based on its diet and vet visits - cat play is essential to keeping your kitten or cat happy and healthy. Most vets recommend at least recommended two sessions of around 15-20 minutes of play as a minimum guideline for cats to keep them away from obesity and being depressed. When your cats are bored and understimulated, they also tend to eat more leading to even more obesity.

With Flying Paw, you can keep your cats happy and active even if you are busy. It replicates the movement of a bird or butterfly fluttering to stimulate Cat's natural hunting instincts making it irresistible to play. It is also a toy that cats can catch, bite and chew to give them that hunting satisfaction, unlike laser pointers that they cannot catch which makes them stressed even more!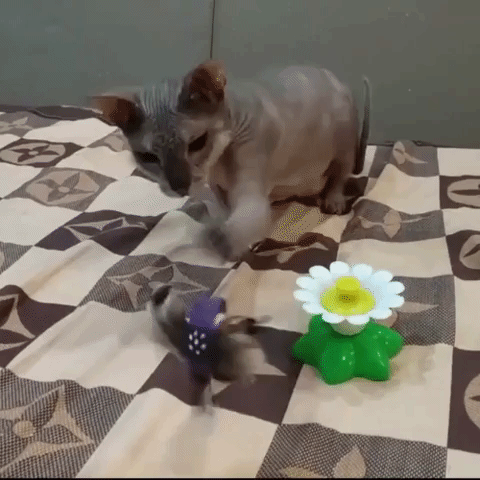 WHY YOU AND YOUR CAT'LL LOVE FLYING PAW:
✅  ENTERTAIN YOUR CATS WHEN YOU ARE BUSY
Flying Paw will move the butterfly/bird attachment in a rotation mimicking how they move in the wild. This will trigger cats' instinct to chase and hunt the prey keeping them entertained. Your cats will never have the time for boredom even if you are busy!

✅  STIMULATE YOUR CATS AND KEEP THEM ACTIVE 
The attachment of Flying Paw flutters like a real butterfly/bird to intrigue even the picky and lazy cats. Let your cats' wild instincts kick-off and put them on an active routine to prevent them from gaining weight!!
✅  SATISFACTION OF THE HUNTING EXPERIENCE
Cats need to chase and catch to feel satisfaction. Cat toys such as automatic laser toys and electronic toys can provide a chasing experience but cats can never catch them which will end up stressing them instead. With Flying Paw, cats can enjoy the satisfaction of catching the prey, biting, and chewing to feel the success of hunting. 

✅  ANTISLIP LEGS FOR EXTRA STABILITY
Flying Paw's four anti-slip legs keep the toy in position sturdily so even the rough chonky cats cannot knock it over! 
PERFECT CAT LIFE NEEDS PERFECT PLAYTIME
Our cats bring happiness into our lives and we also want to do our absolute best in giving them the best life. We understand the frustration when we can't give 100% of our time for cats' playtime or if the cats are picky and inactive. It is truly worrying when your cats are gaining weight as obesity can lead to many other more serious diseases. Research shows that cats obesity is caused by not exercising enough as well as overeating due to boredom.
With Flying Paw, we no longer need to worry about our cats becoming chonkers. The butterfly/bird attachment moves around like in the wild making it irresistible for cats to play for hours. Cats will also enjoy catching and biting the attachment to feel the satisfaction of a successful hunt. It is time to give our cats a happy and healthy lifestyle!
Package Includes:
1 x Flying Paw (Flower base + Butterfly or Bird attachment)

*AAA battery not included
Specification:
OUR GUARANTEE:
Customer satisfaction is the heart of our business.
We are committed to delivering the highest quality products to ensure our customers are happy. That is why we offer

 
30-day money back guarantee
 

on all of our products. If you have any inquiries after purchase, simply contact us from the

 
contact us page