✨Don't be afraid of the sewer blocked any more✨
with our

Kitchen Sink Sewer Cleaning Hook

!!
The home sewer is blocked again? The sink in the house is often blocked by a lot of hair, finely broken vegetable leaves, and it is difficult to clean. Try this pipe cleaner, easy to operate, easy to use.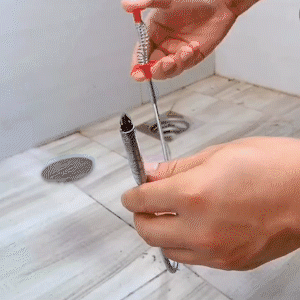 Easy operation:

Ea

sy to handle sewer blockage problems.The hairs and leaves can be hooked out with a slight touch of the handle.
Good tenacity:PP+ stainless metal, slender design,good ductility and easy to bend.
Gripper design: Better cleaning of blockages with gripper.
SPECIFICATIONS:
Size: approx.

60cm

Material: plastic+metal
Item Weight: 80g
PACKAGE INCLUDED:
Kitchen Sink Sewer Cleaning Hook (handle colors are random)