99.5% customs chooose this offer!
🎁It's a perfect gift for your friends&familly!
The perfect busy toy for babies!🚀
(keeps them BUSY and OCCUPIED on the road for hours👾)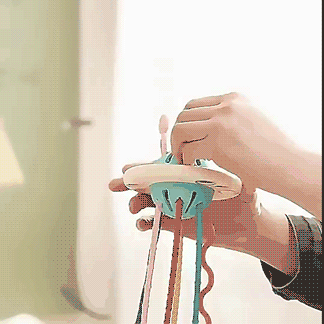 "This toy is a must-have for babies and toddlers. It's my baby's go-to toy and keeps her busy. It has the stuff to chew on and other fun little features!"
Why is this super fun toy a must-have?
🚀Baby Busy Toys: The side of the UFO toy is equipped with soft buttons to encourage the baby to touch and press, exercising the flexibility of little fingers. Each other side is equipped with 3 holes. Slightly press the button from this hole to another hole, feel the press and experience the touch. The textured cords can be pulled from side to side to let the baby feel various sounds and vibrations.
🌌Cool UFO Appearance: This new busy toy is designed in the shape of a UFO to stimulate your baby's curiosity and imagination. Rich and bright color matching can promote the baby's cognition of color and attract the baby's attention. The rope pulled up and down can encourage the baby to develop fine motor skills and hand-eye coordination ability so that the baby can immerse in the world of educational games.
👾100% Safe Material: This funny puller string interactive toy is made with food-grade silicone and ABS,100% safe material, Non-toxic, BPA, and phthalate free. Easy to clean. The food-grade silicone toys can relieve the baby's discomfort during teething, soothe the baby's emotions, and let the baby chew.
💞Parent-child interaction: Parents are indispensable companion for growth, this toy can help establish a good parent-child relationship, parents accompany their children to play together, double the joy.
☄️Best Gift for Kids: The UFO toys for travel will bring your kids more happiness. That would be the perfect gift for your baby as a Birthday gift, Easter gift, Christmas gift, Children's day gift, or New Year gift.
🚗Multi-scene practical:Pull the strip play rich, respond to the different preferences of the baby, multi-scene practical, baby security full, At home, on the plane, go out in the car, tied to the car, stroller, love to sit in the car, go out more interesting, not in fear of sitting in the car, sitting in the car does not cry, mom is very relieved.
📝 Product details:
-Quantity: 1 Silicone Pulling Toy
-Material: Silicone
-Age appropriateness: 6 months~2 years
-Color: As shown in picture
-Dimension: As shown in picture
We have many new styles, such as ufo, octopus, swan, rocket ship, if you like, you can add multiple pieces together to the cart, will enjoy higher discounts.