The shower rack that ensures that you always have everything at hand!
A shower rack often hangs in an inconvenient place and is often completely filled with water, making it a breeding ground for bacteria. Our all-in-one shower rack is the perfect solution for this, because you can hang it exactly where it suits you best.
Because the all in one shower rack has a drip grid, water can easily flow through for a clean result.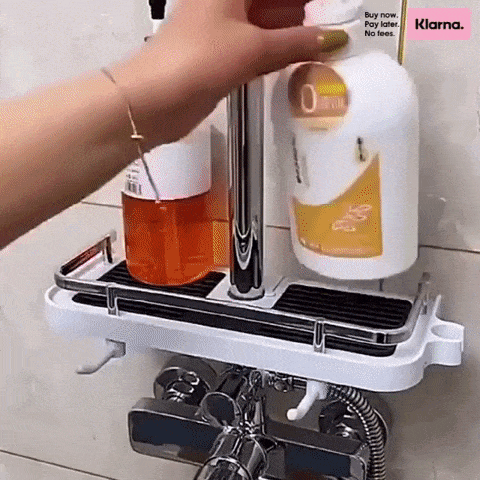 The all in one shower rack is easy to hang on your shower rod and fits perfectly in your shower with its beautiful chrome finish.

Equipped with not only a shampoo shelf, but also hooks and a shower head holder, the all-in-one shower rack is an ideal rack for any shower cubicle!
Why our customers love this product so much
✔ EASY ASSEMBLY - You simply clamp everything in one shower rack to the shower rod at the ideal height for you, and by tightening the screw it is perfectly fixed.

✔MULTIFUNCTIONAL - With the all in one shower rack, you can easily put all your shampoos and shower gels on the shelf, you can also hang your shower head in the holder and even the sponge can be hung on a hook.

Hollow Design - Because the all in one shower rack has a small grid, all the shower water can easily run through it, so no water remains on the shelf.

✔ PERFECT FINISH - The all in one shower rack has a beautiful chrome finish so it can be hung in any shower and won't rust.
Specifications
Material: ABS
Finish: Chromed
Size: 30*12CM
Shower rail mounting: 2.4 CM
Weight: 288 grams
Contents: 1* All in one shower rack
Our guarantees

All orders in our webshop are delivered to your home for free. No minimum order quantity is required for this.

📧 24/7 Customer Service

Our customer service is available 7 days a week to answer all your questions and/or complaints.

💯 Not good? Money Back!

If for any reason you don't have a positive experience, we will do everything we can to make sure you are 100% satisfied with your purchase.