**Free Shipping for a limited time only**
Tired of struggling to strain pasta or other boiled dishes from the pot? You are either tired of dropping pasta in the sink or your other alternative is to buy bulky pots with strainer lids. This takes up a lot of space in your kitchen--space that could be used for so many other important kitchen utensils or perhaps you like things to be clean in a minimalist way.
THERE'S NOW A SOLUTION...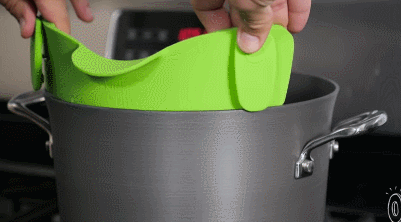 Made from durable BPA-Free Silicone and rust-proof steel clips, this dishwasher-safe Snap-On colander is a smart strainer that snaps directly to any size of pots and pans. It's easy to use, eco-friendly, and flexible durability, allows cookers to simply, "Snap N' Strain".
Say goodbye to struggling with separate colanders!
Clip this attachable strainer securely onto pots and pans to drain out liquid seamlessly. Its heat-resistant silicone conforms to the size of the container and snaps on securely, so you can tilt and pour with ease. The built-in spout gives you control of where you pour that pasta water, grease, or whatever needs draining. Plus, its compact design easily stores in a kitchen drawer.
HURRY UP & BUY NOW before SALE ends!
*Please allow at least 2-4 weeks for delivery due to processing times and high demand. We're doing our best to move as quickly as possible!