The toy not only looks like a real fish, it also acts like a real fish. It will thrash when touched and freeze when left alone.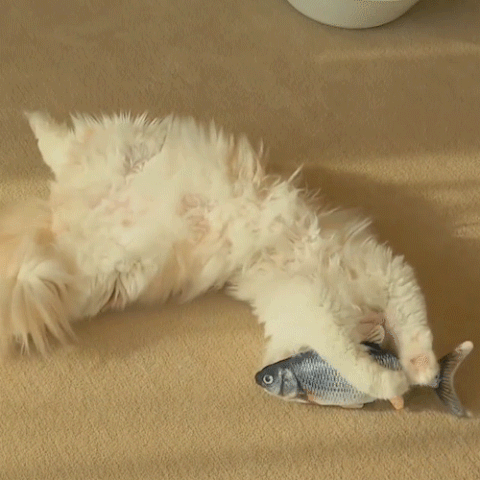 adjust its flopping slower or faster according to the motion around it. If it detects that its being played with, it'll flop faster. If it detects no motion, it'll slow down and eventually stop.
Saving energy for a more enjoyable play time!
BUILT-IN RECHARGEABLE BATTERY
It comes with a USB charger, and a built in battery that lasts for days after a full charge. This would be enough time to entertain your cat and relieve the stress throughout the day.
Make your home environment much more fun, especially when your kitten is alone! Animated Fish - Dynamic Toy for Cat , catches the attention and entertains your pet for hours!! 🙀
BECAUSE YOUR CAT CAN ALSO HAVE FUN AS HE WANTS AND AT ALL TIME
😻 Simple and easy for your cat to play 🙀 Reduces and controls anxiety with a fun pastime 🔝 USB rechargeable battery that lasts for days ✔️ High quality material, safe and washable